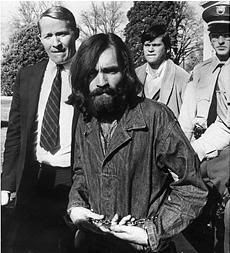 THE TATE-LABIANCA MURDERS, 1969
On Aug. 9 and 10, 1969, two sets of grisly murders took place in Los Angeles. On the 9th, a gang of four people brutally killed the actress

Sharon Tate

, who was married to director Roman Polanski and eight and a half months pregnant, four of Tate's friends and the son of her gardener. Tate begged for the life of her unborn child but was told by one of the female assailants, "

Look bitch, I don't care about you. I don't care if you are having a baby. You are going to die and I don't feel a thing about it.

" Tate's blood was used to write the word PIG on the home's front door.
The next day supermarket executive Leno LaBianca and his wife were killed in a similar fashion, a fork used to carve the word WAR on his belly left sticking out of his corpse. This time, the leader of the gang took part in the slaughter.
Authorities would take nearly five months to track down Charles Manson and his so-called Family. And when they did, America discovered a terrifying mix of a libertine counter-culture and stupefying mind-control. Manson sent out his mostly female agents like the Furies of Greek mythology, to take down those whom he saw as his enemies. His trial ended in 1971 with a death sentence which was vacated by the U.S. Supreme Court's declaration of the penalty's unconstitutionality. He is up for parole this year but is unlikely to receive it.
TIME Magazine posted this article online several years ago, along with a list of 24 additional notorious crimes. I will be posting these crimes every Saturday on my blog, hope you enjoy.
Go back and read the previous 9 crimes here.