The Global Warming Survival Guide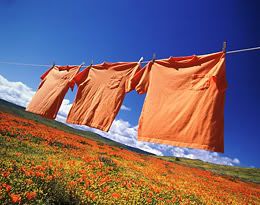 I can't remember how many times I had to go outside and pull down all the laundry from our clotheslines after my mother hung it out to dry in the morning. It was one of those chores I hated doing when I was growing up, but I did it. Well, I had to. LOL. Ironically enough people still do it, and it's a sure-fire way to save on electricity and the environment. So yes, how we dry our clothes is one of the "Things We Can Do To Save The Environment".
Giving credit to TIME, I'd like to thank them for showing us the many ways we can meet these goals. And yes, even one person can make a difference, and it starts with YOU!
-

Peter aka Blade7184
7. Hang Up a Clothes Line
You could make your own clothes with needle and thread using 100% organic cotton sheared from sheep you raised on a Whole Foods diet, but the environmental quality of your wardrobe is ultimately determined by the way you wash it. A recent study by Cambridge University's Institute of Manufacturing found that 60% of the energy associated with a piece of clothing is spent in washing and drying it. Over its lifetime, a T shirt can send up to 9 lbs. of carbon dioxide into the air.
The solution is not to avoid doing laundry, tempting as that may be. Rather, wash your clothes in warm water instead of hot, and save up to launder a few big loads instead of many smaller ones. Use the most efficient machine you can find—newer ones can use as little as one-fourth the energy of older machines. When they're clean, dry your clothes the natural way, by hanging them on a line rather than loading them in a dryer. Altogether you can reduce the CO2 created by your laundry up to 90%. Plus, no more magically disappearing socks.
Make sure to follow Blade 7184 every Tuesday for a new issue of Things We Can Do To Save The Environment. Each issue is thought-provoking, informative and may hold the key to saving your children and grandchildren's future.
Feel free to click on my logo above to read the back-issues.