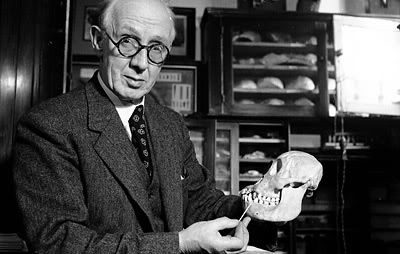 Eoanthropus dawsoni

was the scientific name of this alleged missing link, and it would have been an extremely early example of a creature showing both human and apelike qualities.
At 375,000 years old, it put England in contention for a cradle of humankind, being found in the Sussex town of Piltdown. The "first Englishman" he was proudly called when the anthropologist Charles Dawson found him in 1911.
For decades, Piltdown Man was cited along with Neanderthal man and Heidelberg man as an example of early hominid life in Europe.
Then in 1953, the fragments, including a jawbone, were tested: they did not contain enough fluorine to be the age that Dawson claimed; worse, the jawbone was that of a 10-year-old orangutan, its teeth ground down to simulate age, and a crude chemical wash applied to the bone to make it appear ancient.
No one knows who perpetrated the hoax: Dawson had died in 1916. Very quickly, however, Piltdown became a synonym for phony; and England's claim to antiquity was cut short by several hundred thousand years.
According to Wikipedia: The Piltdown hoax is perhaps the most famous paleontological hoax ever. It has been prominent for two reasons: the attention paid to the issue of human evolution, and the length of time (more than 40 years) that elapsed from its discovery to its full exposure as a forgery.
In the coming weeks, as you read through the 25 crimes Time Magazine has selected, you will wonder which of them will remain in the popular, perhaps even the artistic imagination in the years to come? How will they be retold and with what kinds of lessons and cautions in mind?
Visit my blog every Saturday as a new crime will be posted each week.