If it's one thing I really appreciate, it's the lighting around our neighborhood. I guess now would be as good as time as any to ask our Homeowner's Association if they're burning our tax money by using old lights, instead of LEDs.
Giving credit to TIME, I'd like to thank them for showing us the many ways we can meet these goals of saving our environment. And yes, even one person can make a difference, and it starts with YOU!
The Global Warming Survival Guide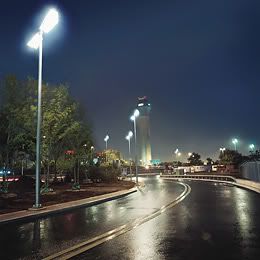 4. Light Up Your City
Cities can save energy—and money—by illuminating public spaces with LEDs, or light-emitting diodes. Last December Raleigh, N.C., turned one floor of a municipal parking garage into a testing ground for LEDs (see the before-and-after photos at cree.com/LEDcity).
The new white, brighter fixtures use 40% less electricity than the high-pressure sodium bulbs they replaced. Although they cost two to three times as much, they can go five or more years without upkeep. Traditional bulbs must be replaced every 18 months. Other types of LEDs are already at work in traffic lights, outdoor displays (like those in New York City's Times Square) and stadiums; airports even use LEDs on their taxiways. If your city is still burning tax money on old lights, ask the mayor why.
Make sure to follow Blade 7184 every Tuesday for a new issue of Things We Can Do To Save The Environment. Each issue is thought-provoking, informative and may hold the key to saving your children and grandchildren's future