So what would your parents say if you text them, "

got 2 grams for $40

" and then sent another text saying, "

Sorry ignore that txt. Not for you

"?
Comedian Nathan Fielder from Comedy Central asked his twitter followers to text their parents about a fake drug deal. The outcome is unbelievably hilarious! If this doesn't make your day something's wrong with you.
I promise you will laugh your ass off. Especially when mom replies, "So help me god if you are referring to drugs I will disown you" or "Austin robert schweitzer there goes your driving test...and any hope of a car! - Going to cvs so get ready to pee in a cup!"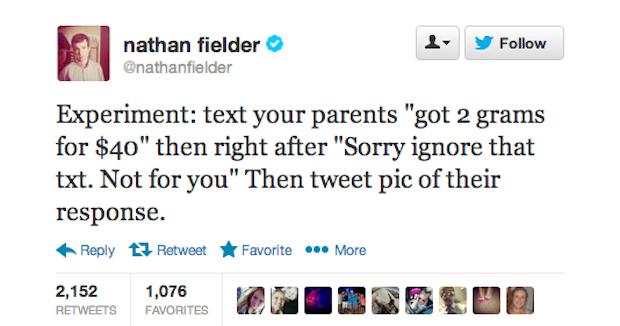 You might also like: The Hard Task of Being a Loving Parent: Kids Go Ape Sh*t Crazy Over The Odd Life of Timothy Green
images courtesy of pleated-jeans